One day, a few weeks ago, two events happened. First I read an article about Kim Kardashian who apparently is famous for simply being famous. The second was a SPOT message I received that was generated from 68˚ North.
These two events are a cataclysmic intersection of humanity and the insanity of a smidgen of modern technology.
Famous for being Famous
I really don't know much about Kim Kardashian, other than her father was a famous attorney who assisted the defense team for O.J. Simpson during his murder trial.
Apparently her full-time job is simply marketing herself.
I looked up "Famous for being famous" on Wikipedia and learned that…
Famous for being famous is a pejorative term for someone who attains celebrity status for no particularly identifiable reason (as opposed to fame based on achievements, skill or talent) and appears to generate their own fame, or someone who achieves fame through a family or relationship association with an existing celebrity.
30 million people "Like" her Facebook page — whatever "Like" is. And 29 million people "Follow" her on Facebook. I'm not sure what that is either, but apparently anytime she posts something on her Facebook page 29 million people are notified. You have to wonder what the heck is wrong with people.
Additionally 53 million people are "Following" her on Twitter and 100 million people are following her on Instagram.
I also learned that she is a Reality TV star. I've never watched her TV program, but my understanding is the program documents contrived events about the Kardashian family. I'm sorry, but contrived is not reality — it's made-up shit.
On becoming a famous backpacker
The really cool thing about backpacking is the individual gets to decide what backpacking is for them. That is, they can go backpacking however they want for however long they want; whether it is only weekend trips or multi-month adventures. And each backpacker gets to decide how they want to do it in terms of when, where, and what kind of equipment they need to stay dry, warm and safe. There is no correct way to do it, other than being prepared and having the skills to get back home alive and in one piece.
In our technology driven, people connected, social media and all things Internet world there are 3 kinds of backpackers.
1. The non-connected backpacker
These folks just go backpacking for the simple pleasure of walking from point A to point B. No fanfare, no blogs, no social media. Few people know who they are or what they are doing.
2. The highly skilled backpacker who has an Internet presence
These folks generally hike often and primarily through a blog share their experiences and knowledge with others. Many also have a presence on social media. For me, most of these folks provide a lot of valuable information, insight, and often are just plain fun to read. I follow a few of them via Bloglovin'. I would define these folks as credible sources of information and worth the time invested reading their blogs.
3. The backpacker who is famous for, well, being famous
Often these are the folks who backpack infrequently, almost never take trips more than a week long, buy new gear for nearly every trip that they just have to review without actually using it, and usually don't have the confidence to go into the wilderness alone (there is nothing wrong with preferring to hike with others).
These folks mostly post about gear, link to blogs of similarly minded backpackers, spend more time answering comments on their blogs than time actually backpacking, have a presence on Facebook, Twitter, Instagram, etc., which they use to drive traffic to their blog. They also spend time promoting the blogs of their clique of like minded bloggers, and they often nominate each other for recognition like the Leibster Award.
68˚ North (or how not to be a famous backpacker)
At the beginning of this post I mentioned two events. The second was a SPOT message that was generated from a location along the 68th parallel. Right away I knew that this is well north of the Arctic Circle. The Arctic Circle starts at 60˚ North and the Arctic extends from here to the North Pole. This location is 8 degrees north of the Arctic Circle and was sent during April. Brrr! But was it real or some sort of malicious spam.
The SPOT Satellite Messenger
This is a satellite device that allows the user to send a text message or generate GPS tracking for people who want to see their location. Type 3 backpackers often bring one on overnight trips, close to home, on well marked trails, while with a group of people. I can't tell you much more because I don't own one and have never actually seen one.
Was my SPOT message spam?
The SPOT message also included the longitude and was located on the sea ice along the Northwest Passage. I only know one person who would undertake such a trip in April where the average daily high temperature is 2.7 F (-16.3 C), the average daily low is -13.5 F (-25.3 C), blizzards are common, navigating large outcroppings of sea ice is often problematic, and of course you will see polar bears if you are out for a length of time. Navigation isn't fun either.
Since I suspected the message was legitimate, I contacted a mutual friend. Yes, it was him was the reply. Since this friend, who hasn't given me permission to talk about him, who doesn't have a blog, has virtually no Internet presence, and hasn't written book… I'll just call him The Pilgrim.
The Pilgrim
I first "met" him years ago on a backpacking forum when I was contemplating the purchase of a McHale LBP 36 backpack. As a long time McHale user he gave me some valuable feedback and after the purchase some tips on several undocumented features. The Pilgrim is the only person in modern times who has hiked the entire Continental Divide Trail, continued through the Canadian wilderness,  and crossed Alaska to the Bering Sea — a trip he did over many years section by section. In other words he has hiked from Mexico to the Bering Sea. In addition he has hiked many remote areas throughout Canada and Alaska. Then a few years ago he decided to hike across Canada; not the southern part of the country, but mostly above the Arctic Circle, a journey he is piecing together year-by-year, section-by-section. Many Arctic adventurers, those who journey by foot, often consult with him for information on Arctic travels and remote places in the north-most parts of the North American continent.
When it comes to backpacking The Pilgrim is a humble person. I was on a trip with him and a few other friends last October and he is more interested in talking about philosophy, politics, economics, fine liquor, and his favorite food: cheesecake.
I saw him again at a social gathering this past January. We had some great conversation, but he never mentioned his planned Arctic Trip.
Our mutual friend told me the Pilgrim was planning on walking from Cambridge Bay to Gjoa Haven with a stretch goal to continue on to Repulse Bay. I already knew he had walked from Kugluktuk to Cambridge Bay over the sea ice last year.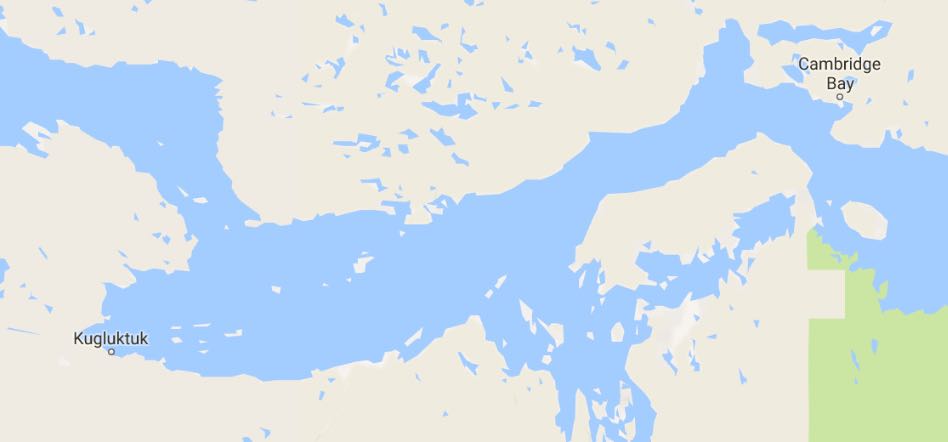 Below is a map in case you are wondering where on earth these places are. Obviously Alaska is on the left, Canada in the center, and Greenland on the right.

A little background on these places. In 1906 Roald Amundsen became the first person to navigate the Northwest Passage sailing his ship from Greenland to Alaska. In October of 1903 during this voyage the sea began to ice up. He found refuge in a natural harbor, which he named after his ship the Gjoa. Thus the hamlet is now named Gjoa Haven. Amundsen ended up spending two years in Gjoa Haven, learning from the local Inuit how to survive in the Arctic. Today Gjoa Haven has about 1,000 inhabitants.
Cambridge Bay, like Gjoa Haven has about 1,000 inhabitants.
Repulse Bay was an important harbor where whaling ships would dock during the winter when the sea iced over. It also has about 1,000 inhabitants. All three of these small hamlets are inhabited mostly by Inuit people.
The three hamlets are so remote that they are supplied once a year with goods and materials from ships that can only travel between late June until late October. Air service is available at each hamlet, mostly for travel as bringing in goods by air is cost prohibitive unless there is an emergency.
Tracking The Pilgrim's Progress
He did not travel with a backpack but instead pulled a small toboggan, called a pulk. Total weight was around 77 lbs and included several weeks of food, shelter, inflatable raft, a homemade electric fence to hopefully ward off polar bears when he was sleeping, and other equipment needed to survive in the Arctic.
From Cambridge Bay
I started receiving SPOT messages nearly everyday as were four other mutual friends. Once we did not get a message for 3 or 4 days, which left us worrying about his safety. We didn't know if it was due to problems with the SPOT Satellite Messaging System that is known for not working correctly at times or if The Pilgrim was in trouble. Each time I received a SPOT message I would pin the location on a map and send it out to the other four who were worried for his safety and rooting for his success. Here is a map of the GPS locations from Cambridge Bay to Gjoa Haven. There is a large gap in one section where we did not get any messages.
We received the first SPOT message on April 23rd and on May 16 got a message that was located in Gjoa Haven. He had made it safely.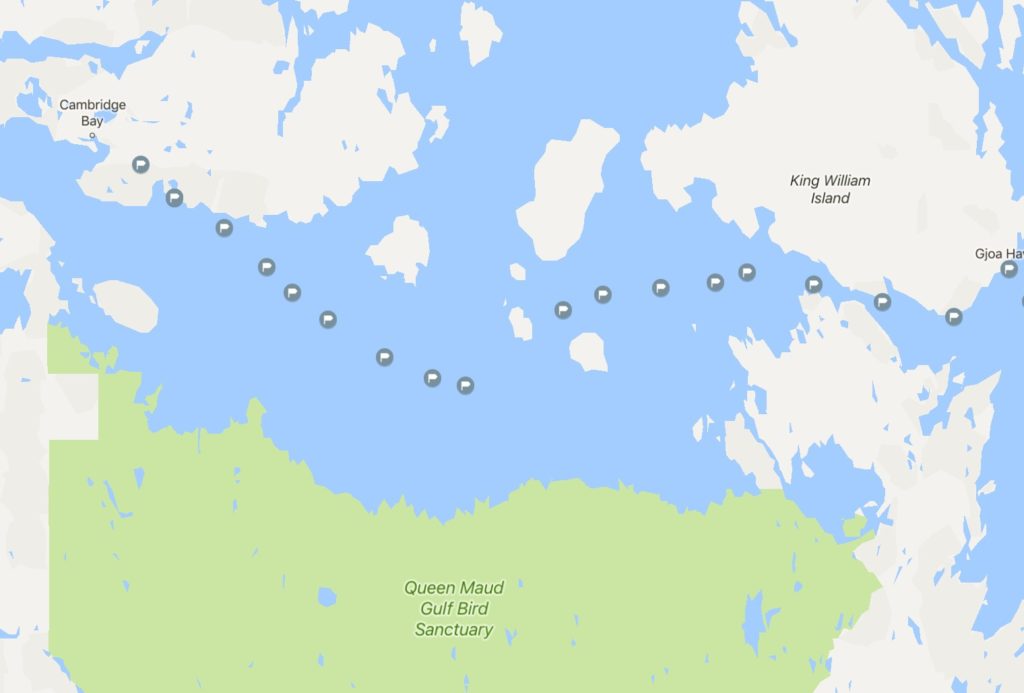 He called one of us and let us know he made it safely, was so hungry he was eating sausages while taking a well needed shower, had been pinned down for two days in a blizzard, had a couple of polar encounters, and was going to rest for a couple of days before continuing on to Repulse Bay. That's it.
From Gjoa Haven
So while we were half-jokingly questioning The Pilgrim's sanity and at the same time anxiously awaiting the next SPOT message, I thought about Kim Kardashian and the legions of millennials famous for being famous backpackers blogging about the next big trip, typically with a bunch of people, on a well-marked and crowded trail where a shelter or rain gear probably won't be required; blogs that meticulously plan a week's trip for months; simple trips that require no planning; and the ongoing barrage of gear posts where they unwrap the latest and greatest new gear for review — gear that is replacing last year's latest and greatest gear for a similarly crowded and well marked trail for few days outdoors.
Nope. I'd rather enjoy wondering about how the Pilgrim is doing, what he is seeing, what challenges and adjustments he'll have to make day-by-day. Perhaps the attraction is that we are about the same age, in our mid 60's and think that hiking is better than writing about it; that one should spend more time backpacking than writing about backpacking.
Surprised, the SPOT tracks showed The Pilgrim was making a beeline across the ocean to land. Not what I thought he would do. I sent out this picture and wrote in an email:
He's on the move again and so far is headed on a straight bearing. Wonder if he feels navigating land with all the topography is easier than sea ice and safer with less chance of polar bear encounters. I had guessed he would have headed more easterly to Kugaaruk, crossed the peninsula and then hiked south on the sea.

And then,
He's now on land. Be interesting to see if daily distances increase or decrease going forward.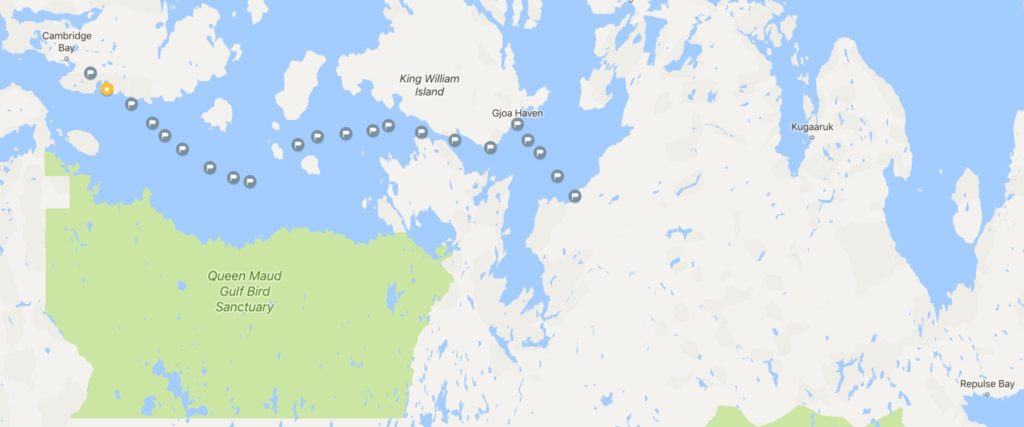 Suddenly, he turned north and headed back onto the sea ice. This email exchanged followed:
He's now headed north. Looks like he lost 3 days by changing course.

What do you think his new route is, given the latest coordinates?

He might be thinking about going back to Gjoa Haven, but if still is trying to get to Repulse Bay, I'll stick with my earlier thought of going to Kugaaruk, crossing the peninsula to the ocean and then heading south. The route he appeared to be taking at first would required dealing with a lot of lakes, rivers, hills, and valleys.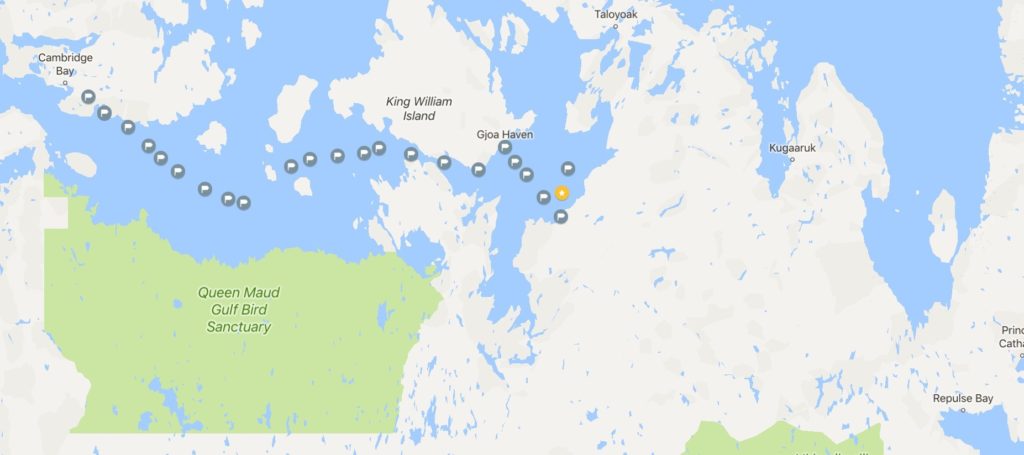 Then The Pilgrim continued north, and north, and north…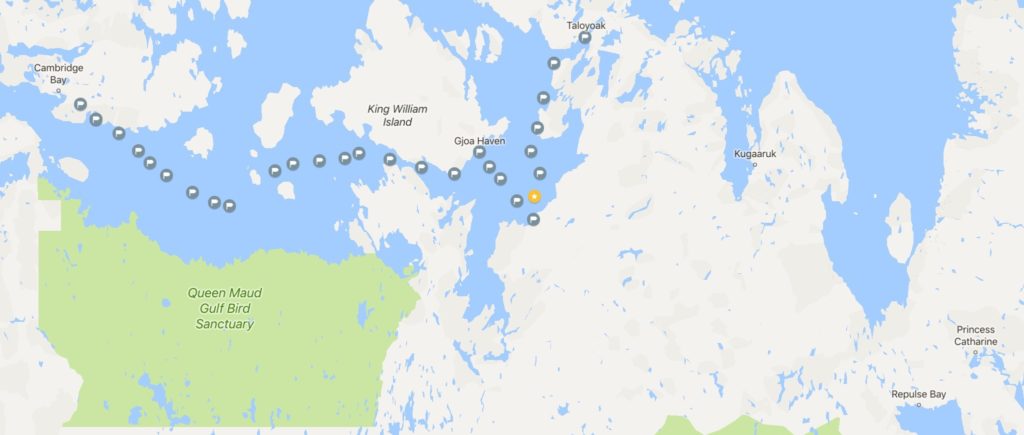 What is his thought process? What are his plans? Will he turn east to get on the sea ice and then head directly south towards Repulse Bay? How is the ice? Is it melting quickly? Is he healthy? Except for two or three days in Gjoa Haven, he has been alone walking on sea ice along the Northwest Passage for over a month. Does he have to go back to work? Is the ice boring? I doubt it, because deserts aren't boring to me and what attracts him to the Arctic must be the same think that attracts me to deserts. How different this is from the thru-hikers that do long trails and post their progress almost daily to a blog.
The last SPOT message came from Taloyoak, another 1,000 person Inuit hamlet that, like the rest, has a small airfield. He arrived there on May 28th and we heard nothing more. So we waited.
Then yesterday we go a SPOT message. Location is in Central California. The Pilgrim's Progress — how he chooses to say I am home and safe.
Well, it is unlikely anyone will be reading about the details of this trip. It is likely that the few of us who tracked the trip will meet up sometime later this year and our Pilgrim will join us. Hopefully, around a campfire while eating his cheesecake and enjoying an adult beverage we can talk him into sharing the details of the trip. And since he stopped in Taloyoak, which is east of Gjoa Haven and has an airstrip, the odds are pretty good that in April of 2018 he will be heading out of Taloyoak again, walking towards Repulse Bay. He is driven… he has to cross Canada! Even though very few people will know about it.
And while many folks may be sitting at home reading about famous for being famous backpackers, The Pilgrim's trip reminded me I should go for a long walk. Tomorrow seems like a good time to start, and there is probably no good reason to report back on it either.